<![if !vml]>

<![endif]>
[9 x 73]
[Trouvé par Jean-Charles Meyrignac en janvier 2014]
Lacs de John Baldessari (d'après son œuvre ci-dessous de 1966-1968)
« Terms most useful in describing creative works of art:
Give vision, direction, flavor, a new slant, force, uniqueness, permanence, inspiration, a glow, motivation, enchantment, blend, enlighten, invigorate, enthrall, take seriously, precise care, out of the ordinary, enjoy, charm, influence, interest, delight, arouse, communicate, cultivate, nurture, plan intelligently, detach, transfer, challenge, elevate, satiate, improve, value, flagrance, discipline, delicate, command attention, exalt, develop, satisfy, beautify, identify, inspire, originate, create, associate, cherish, alter, revise, criticize, impress, impart. »
<![if !vml]>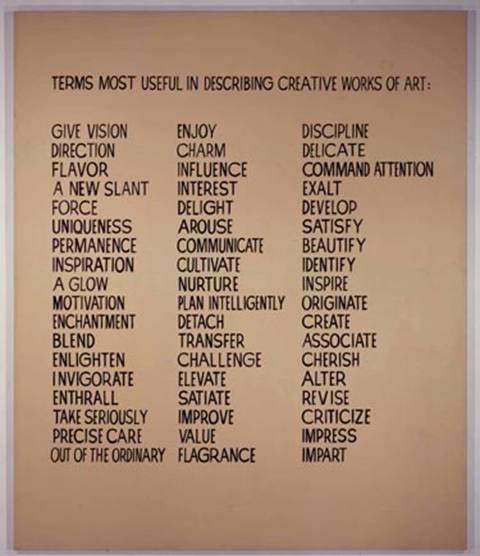 <![endif]>
__________
Retour à la page d'accueil du site, là.
D'autres « croisades » là.