<![if !vml]>

<![endif]><![if !vml]>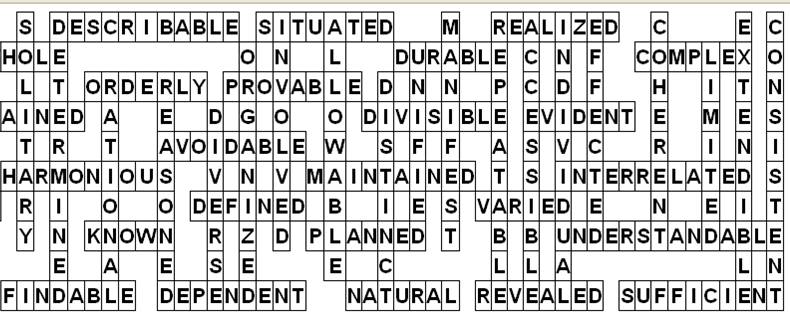 <![endif]>
[10 x 110]
Grille trouvée par Jean-Charles Meyrignac en janvier 2014.
Lacs de Robert Barry (1971) – merci à Ubuweb :
« This work has been and continues to be refined since 1969:
It is whole, determined, sufficient, individual, known, complete, revealed, accessible, manifest, effected, effectual, directed, dependent, distinct, planned, controlled, unified, delineated, isolated, confined, confirmed, systematic, established, predictable, explainable, apprehendable, noticeable, evident, understandable, allowable, natural, harmonious, particular, varied, interpretable, discovered, persistent, diverse, composed, orderly, flexible, divisible, extendible, influential, public, reasoned, repeatable, comprehendable, impractical, findable, actual, interrelated, active, describable, situated, recognizable, analysable, limited, avoidable, sustained, changeable, defined, provable, consistent, durable, realized, organized, unique, complex, specific, established, rational, regulated, revealed, conditioned, uniform, solitary, given, improvable, involved, maintained, particular, coherent, arranged, restricted, and presented. »
__________
Pour revenir à l'accueil, c'est ici.
Pour d'autres « croisades », là.